Born 1897 died 1982
Guild member 1926-1982
Weaver and dyer
Life
The KilBride family lived in the Manningham district of Bradford. After leaving school, Valentine was apprenticed to George Armitage & Co. at their Bradford dyeworks; a company owned by relatives on his mother's side of the family. His management trainee apprenticeship was interrupted by the First World War when Valentine served in the Royal Navy as a signalman.
At the close of the war he returned to Bradford, but had begun to become interested in hand weaving and natural dyeing, as opposed to his previous work in large scale textile manufacture and dyeing. He had become interested in the ideas of William Morris and others who had encouraged the revival of traditional British textile arts and smaller-scale methods of production.
He left the Bradford dyeworks and initially set up his own business as a handloom weaver. However, in 1923, inspired by the work and writing of weaver, Ethel Mairet (described as the 'mother of English handloom weaving'), he went to work with Mairet at her workshop and home 'Gospels' at Ditchling. At 'Gospels' he worked as a trainee alongside Petra Gill, Eric Gill's daughter. Ethel Mairet, by that time, had gained recognition among weavers for advocating the use of natural dyes, as outlined in her seminal book Vegetable Dyes, published in 1917. Valentine joined the Guild in 1926, the year he married Cecilia McHardy. The couple had six children, all of whom became weavers, including his daughter Jenny, and son Thomas, both of whom joined the Guild and were among the members at the close.
For over 50 years Valentine KilBride specialised in silk weaving and the design of church vestments and was instrumental in reviving a traditional Gothic-style of vestments for priests of the Catholic Church (as opposed to the fiddleback style which merely cover the shoulders on the side and hang down in the front and back). In 1959, he travelled to the USA to receive a Gold Medal of The Catholic Art Association of America for his contribution to Catholic vestment design and manufacture.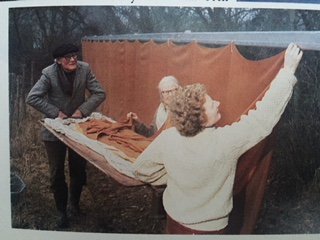 His final years were sadly blighted by dementia, and he had to stop working. His life however, was one of service to the Guild, the Catholic Church and his family.
Vestments produced by KilBride's Worksop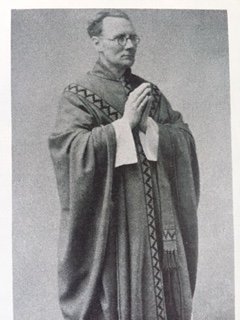 Grave
Valentine KilBride died in 1982 and is buried in Ditchling Cemetery. His spectacular gravestone was designed and carved by Eric Gill's nephew, John Skelton:
Links