Discussion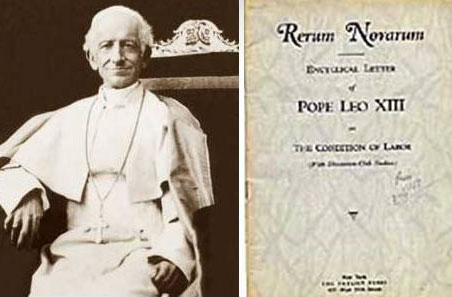 At the time of Gill's entry into the Catholic Church in 1913, its intellectual life in Britain was resurgent, championed by authors such as G. K. Chesterton and Hilaire Belloc. Several events underpinned this new self-confidence. The Roman Catholic hierarchy of Bishops had been restored in 1850, Britain was no longer officially missionary territory, there was also the legacy of the conversion to Roman Catholicism of men such as Cardinal Newman from a stratum of society with many establishment ties. Then in the Church at large, there was a renewal of interest in the philosophy of the medieval Dominican theologian Saint Thomas Aquinas. Aquinas' encyclopedic writings, inspired by Aristotelian thought, had been championed by Pope Leo XIII and his immediate successors as the Catholic Church's answer to the new ideologies of Marxism and then modernism.
The indispensability of ownership for a worker and the freedom to follow their conscience (together with the usefulness of such workers joining unions) was also a feature of emerging Catholic social teaching, founded on Leo XIII's papal encyclical Rerum novarum issued in 1891. Catholic social teaching stemming from Rerum novarum was also crucial to the idea of the Guild; during the first decade of the twentieth century Catholic Liberal MP, Hilaire Belloc, subsequently supported by G. K. Chesterton, developed a social response to the encyclical, set out in his book The Servile State in 1912. He looked beyond the individual worker's workshop and family to think how society itself might be restructured if the principles of individual freedom, responsibility and ownership were applied more widely. Belloc called it Distributism, the core idea was that ownership of the means of production was to be so widely spread that no block of interests was sufficiently powerful to dominate any other.
Nonetheless, he saw the need for people to work collaboratively, but favoured community enterprises and credit unions rather than banks; cooperatives rather than international companies. Chesterton coined the aphorism 'three acres and a cow' to describe the aspirations of followers who had moved to the countryside to become totally in charge of their own production. These ideas were taken up, not merely within the Catholic Church but by others as well and on 17 September 1926, readers of G.K.'s Weekly [G. K. Chesterton] who wished to associate in support of the paper and its policies founded The Distributist League with the following Objects:
To convince a large number of people that, in order to restore liberty, property must be distributed;
To find out how property could be distributed;
To distribute it.
The Dominican Friar Vincent McNabb, was one of the movement's leading proponents. McNabb was a frequent visitor to Ditchling from 1917 onwards and was pleased to see a group of people living out Distributist ideals. For McNabb though, the key element in Distributism was individual self-sufficiency in food, brought about by each worker owing a small plot of land and in due course McNabb would help found the Catholic Land Movement in 1934. For the Ditchling Guild however, handwork and the needs of the workshop came first, land work was a secondary factor and this would sadden McNabb in later life. But this is not to say that individual Guild members did not espouse the Distributist cause enthusiastically. George Maxwell was a zealous supporter. Associate Herbert Shove was a leading theorist on Distributism. Philip Hagreen made engraved cartoons for the Distributist journal The Cross and Plough and redesigned its masthead and for a while Hilary Pepler himself jointly edited, GK's Weekly, following Chesterton's death.
Another key figure was Arthur Penty who is generally credited with the formulation of a Christian socialist form of the medieval guild, as an alternative basis for economic life.
Further information
Books
Various writers including Fr. V McNabb, Herbert Shove, George Maxwell – Flee to the Fields, The Founding papers of the Catholic Land Movement. 1934, reprinted by IHS Press 2007
Various writers including Herbert Shove, George Maxwell, Eric Gill, GK Chesterton, Hilaire Beloc: Distributist Perspectives, volume 1. IHS Press 2004
Various writers including Hilary Pepler, Philip Hagreen, George Maxwell, Eric Gill, Dorothy Sayers: Distributist Perspectives, volume 2. IHS Press 2008
Links